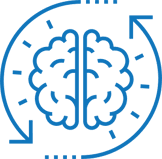 Insurance sounds lame, we get it.
Help us change that stereotype.
Join a high-energy, talent-dense environment with the opportunity to make an impact quickly. Work with an engaged leadership team that will invest in you. Our job is to help you grow.
As we grow our team, we are looking for inquisitive, entrepreneurial people who are excited to reimagine the insurance industry.
Insurance is too complex. Help us make it better.
At Berkley Alternative Markets Tech, we are proud to provide a range of exciting internship opportunities that offer valuable exposure to our three areas of expertise: Product, Engineering, and Business Engagement.
Our internships are designed to provide students and emerging professionals with hands-on experience, mentorship, and the chance to contribute to real-world projects. We are seeking individuals who are eager to kickstart their careers and become tomorrow's business leaders.
If you are passionate about technology, innovation, and making an impact, we encourage you to submit your resume for consideration by emailing a copy to
bmt-info@wrberkley.com
You've read about what makes us different, how we work, our processes and the fun we have, now it's time to hear from members of our team about why they've chosen to work at bamtech - check out their thoughts below:
"Working at bamtech has allowed me the ability to contribute across teams, push our technology and people forward, and getting to work with smart and fun people."
"There is no 'your' or 'my' way of doing things here, there's improvising and finding the best way. New ideas area always welcome. I can't member a single time I heard someone say that is now how it works. You have an idea, bamtech won't turn it down."
"One of my favorite parts of being a member of the team at bamtech is getting to watch individual contributors grow into thought and resource leaders, making our cause their own and driving our group into the future."
"We are a group of innovators that love new ideas and strive to find better and more efficient ways to accomplish our goals."
"The collaborative environment encourages everyone on a project team to search for innovative solutions to complex issues, and this is something I take pride in having been a part of."
"I love working with people who are always looking for ways to improve and are willing to try new things, we keep getting better, and that's so satisfying!"